C30 Brush Chipper
$0.00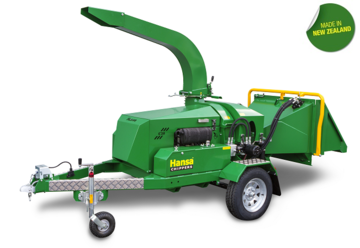 Suitable for arborists, hire centres and councils
160mm capacity
Diesel powered
Features
Wide Infeed Opening: 330 x 178mm (13" x 7"). For foliage and brushy material, this wide infeed opening gives the chipper a capacity of a 10" to 12" machine with all the advantages of a 6" machine, e.g. Low weight and cost, and easy to manouvre.
Vertical Anvil: Anvil positioned vertically (rather than horizontally) to reduce knife damage caused by abrasive material.
Hydraulic Pump: Driven off the engine. Even if cutting disk is jammed, the feed roller can still be reversed for clearing the branch material.
Clutch:

Easy starting with soft start technology.

Simple and reliable. Auto tensioning belt drive system.
Outlet: 360° rotating chute with deflector and a positive locking system. No tools required for adjustments.
Jockey Wheel: Large solid wheel, height adjustable.
Light System: LED tail, brake and license plate lights, suitable for 12 or 24 volt system.
Feed Roller: Pivot type spring tensioned, operates with less friction, moves within 10mm of knives.
Feed Control Bar: Pull to feed, push for reverse.
Feed Table: Folds away and is locked when transporting the machine.
Auto Sensor Feed: Electronically monitors engine RPM and controls feed roller to suit. Auto feed is operator adjustable by push button, LCD screen displays engine RPM & hour meter. Auto reversing for quicker engine recovery. Feedroller jams are reversed and cleared automatically, eliminating manual reversing of feedroller if a blockage occurs.
Finish: Media blasted surface, zinc shielded and powdercoated (Hansa green or optional colour of your choice).
Warranty: 12 month warranty (conditions apply).
New Zealand made for New Zealand conditions.
Designed for professional use by arborists, parks & reserves, local bodies, orchards and hire centres.
The powerful hydraulic feed system of the Model C30 makes it easy to process any material. Its 7" x 13" wide feed opening pulls bushy and twisted branches with forks into the machine without effort. You simply control the feedrate with the control bar and the rest is automatic with the electronic automatic sensor feed system.
Fuel efficiency is vastly increased by 50% with the 28.6HP Kohler two cylinder air cooled diesel engine in comparison to petrol powered equivalents. With the 40% higher torque of this engine, wide feed opening and the auto sensor feed system, this machine has an extremely high throughput, making this machine very popular among arboriculture contractors.
If you have special requirements these can often be incorporated in the build of your machine. Options such as a cone holder, rake holder, spare wheel and road brakes can be manufactured to suit your operation. We will even powdercoat your machine in a colour of your choice!
Specifications
General
Length (inlet table folded up)
Width
Height
Weight
3555mm
1575mm
2060mm (minimum)
980kg
Engine
Make & model
Type of fuel
29HP Kohler air cooled
Diesel
Capacities
Fuel tank
Hydraulic oil tank
45L
20L
Chassis
Frame description
Tires
100 x 50 x 3mm RHS
13" wheels
Cutting System
Disk speed
Disk diameter
Shaft diameter
Knives
1800RPM
650mm x 32mm
50mm
Two
Feed System
Feed opening
Chipping capacity
Feed table height
Feed table length (to feed rollers)
Infeed chute opening
Roller style

Feed speed range
178 x 330 / 7" x 13"
160mm / 6"
700mm
1550mm
960 x 650mm
Single roller, spring mounted, 220mm / 8.7" diameter
0 - 40m/min / 135fpm with flow control, full reverse
Discharge System
Discharge height
Degree of rotation
2060mm - 2200mm (adjustable)
360°
Brakes
Hydraulic road brakes
Optional